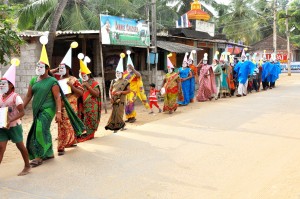 The Fishermen in Thoothoor area of Kanyakumari Distirct, Tamil Nadu, India are highly skilled in deep sea fishing. They are adventurous and hard working. They venture into the entire Exclusive Economic Zone (EEZ) of India and also beyond the EEZ. Their traditional knowledge is very supportive in Navigation. But they are not safe at sea because of rough climate, unfavourable water current, unpredicted collision with ships, cross boarder incidents etc. The death rate at sea is 24000 per year. According to ILO fishing is the second most dangerous occupation in the world. In this backdrop Association of Deep Sea Going Artisanal Fishermen (ADSGAF) looked for the support of IEEE to get feasible solution to the above said problems. A separate group is also formed which is called 'Artisanal Deep Sea Fishers' under the category of IEEE's SIGHT. (Petition submitted and it is being under approval)
With the support of IEEE Young Professionals Program, Madras Section Artisanal Deep Sea Fishers IEEE –SIGHT, Madras Section organized a Santa Clause Rally on 23rd December 2014 at Thoothoor area with the following theme.
1. Save Energy
2. Minimize Carbon Emission
3. Save water
4. Protect Mother Sea
5. Protect and Conserve Marine Resources and Biodiversity
6. Avoid Fishing of Banned Sharks
Mr. Vincent Jain the Organizer/Interim Chair of the SIGHT (proposed) inaugurated the rally and he has also given the message. He also thanked Prof. A. Darwin Jose Raju, Treasurer, IEEE Madras Section and Prof. S. Elangovan, Chairman, IEEE Young Professionals, Madras Section for the support provided for organizing the programme.